I got it all torn down days ago. I haven't decided if I am going to get another top plate laser cut or just modify this one. I want to go with a Bulgin switch, and not in the stock location. It's in a bad location where I have the amp sit I burn myself on the tube reaching for the switch to turn it off. I have a top plate designed in AutoCAD. I'm just waiting to hear from a place about laser cutting and if I need to add any considerations for beam width (maybe someone here could help me?). I drew everything literally the size I want it to wind up. The new tube sockets are smaller in diameter, so I ended up shrinking those holes in the drawing. I will still need a few more holes to mount a board that does the on/off latching and delays the signal to the headphones because I don't feel like putting the massive effort into pressing the latch to remove the headphones every time I turn it off, and I don't feel comfortable leaving them plugged in when I power it on.
The transformer end bell ended up ugly and rusty with all of the skin oils from handling. Oh well. That's getting powder coated and it was the plan from the get-go.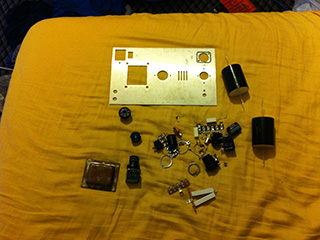 I got the capacitor brackets from Shapeways today.